Bull Terrier Puppies For Sale
Are you looking for the perfect small dog that will make a delightful addition to your home and family? If you are, have we got the perfect breed for you!
Bull Terrier puppies from Boss Bull Terriers in Montgomery, Alabama are playful with a mellow disposition and they are incredibly smart – that means you will get a dog that is gentle with small children but playful enough for older children and very easy to train because they are so smart! Not only do you get all of this in Bull Terrier pups, they are also a small breed which means you can have them in just about any kind of housing situation! They also travel well so there is another bonus to buying a Bull Terrier puppy.
We, here at Boss Bull Terriers, pride ourselves on the effort we make to ensure that our Bull Terrier male puppies and Bull Terrier female puppies are healthy and strong and from excellent parents! We always maintain strict breeding policies to ensure that the puppies and their parents are strong, healthy, and never over-bred! We do this by maintaining high quality veterinarian care, diet, and activity levels for all of our animals. We also keep our females on strict breeding schedules so they are never over-bred because we know that too much breeding can destroy our girls!
As professional Bull Terrier breeders, we recognize that there are trademark traits in any dog breed and Bull Terrier pups are no exception to this rule. Bull Terriers have oval or egg-shaped heads with somewhat large and pointed ears, somewhat short legs, triangular bodies in that they are kind of buff – or heavy chested – with much narrower hips, and they have a particular stance that dog showers especially look for. In addition to these physical characteristics, there are certain color combinations that breeders and showers alike want present in their dogs. Here at Boss Bull Terriers, we do everything possible to ensure that we have the best traits available in our Bull Terrier puppies for sale!
Litter from Diamond & Mya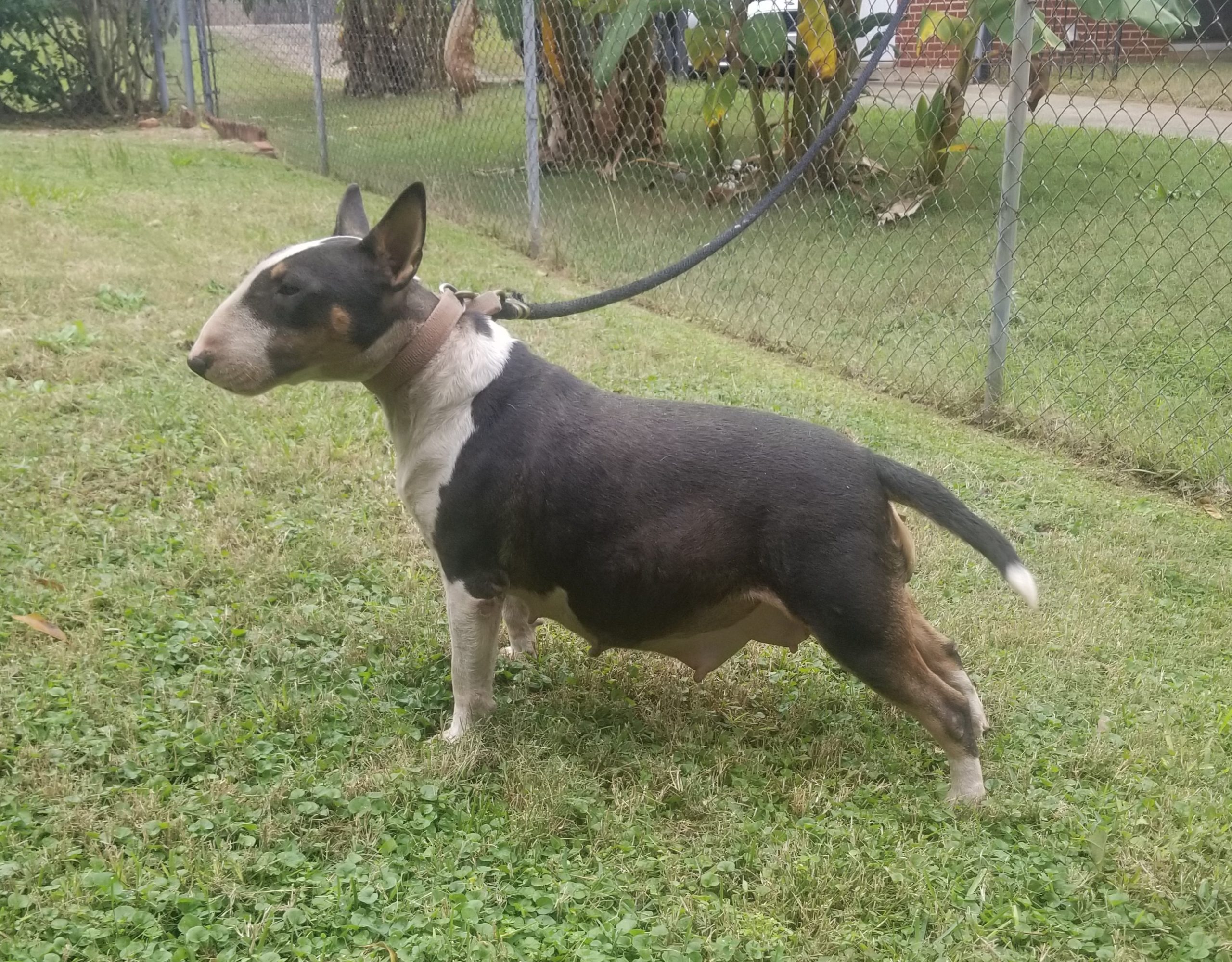 #1 Female – Black, White & Tan
#2 Female – Black, White & Tan